Our Products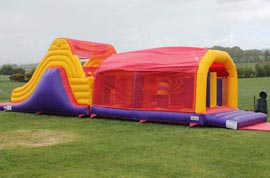 Terminator Torment
This is one of the biggest obstacle courses in Ireland and is by far the best. Its 12ft wide by 50ft long. If you have the space in your garden and have the money to hire it, you wont be disappointed.
More Images
---
Bootcamp Obstacle Course
This 43ft obstacle course will keep every kid entertained. Fully enclosed with great weather protection, lots of attractions including high slide, biff n bash, tunnels, climb over walls and bouncing areas. GI Jane and GI Joe will be laughing their socks off with this camouflage bootcamp experience.
More Images
---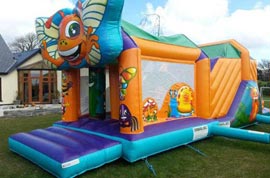 Bugs Obstacle Course
This is a scaled down version of our Terminator Torment Obstacle Course. Its 11ft wide by 32ft long and is ideal for kids under 11 years old. It also has a rain cover just in case its raining on the day.
More Images
---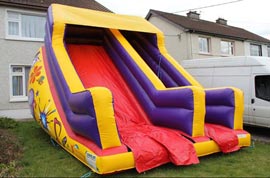 Inflatable Super Slide Hire
If your organising a party for kids that are a little bit older and want to get something different the super slide is definitely the way to go. Its 13ft x 20ft and the overall height is 15ft hight.
More Images
---
Bouncy Play and Slide
Probably the best bouncing castle in Cork at the moment. It has a built in slide and also has a few obstacles in the bounce area. The bouncy castle is 18ft wide by 18ft in depth and has a rain cover.
More Images
---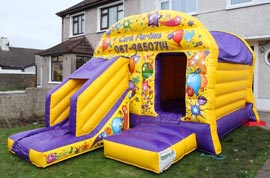 Bounce House with Slide
This bouncy castle is almost completely enclosed and has a good chance of keeping out rain water if the weather is bad on the day. The overall size is 12ft x 18ft which makes it ideal for narrow gardens in Cork.
More Images
---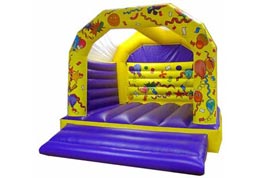 12ft x 15ft Bouncing Castle
This is probably the most popular bouncy castle we have. Its nearly always on hire and fits into 90% of all gardens. Its nice and colourful and has a universal theme so is suited for both boys and girls.
More Images